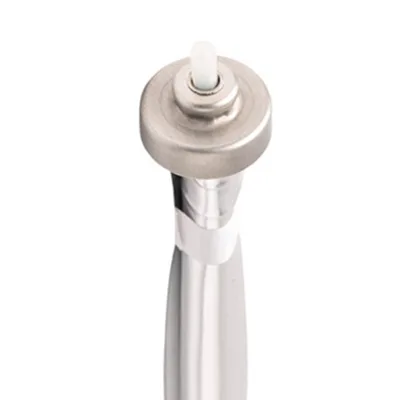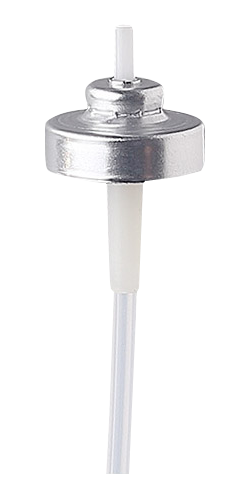 ALUMINUM AEROSOL CAN SPRAY VALVE
Design service
We can offer artwork design and engineering services, and sell aerosol accessories as per your request.
Material: Aluminum
Size: 1 Inch/20mm
Pressure: High Pressure
Application: Aerosol & Spray
Aerosol valves leverage pressure between two fluids to force product through an atomizer, creating a useful, fine mist.
This is done by filling the can/tank/reservoir with two different fluids: the first is a high-pressure propellant of lower density and the second is the desired product to be dispensed (this is your paint, shaving cream, WD-40, etc).
At rest, the high-pressure propellant pushes up on the stem and mounting gasket, keeping the system sealed, while also pushing down on the product. When the actuator is pressed, the dip tube path is opened to the outside; this creates a large pressure differential (inside the can → high pressure, ambient air → low pressure). The system wants to move to equilibrium, and so the product is forced through the dip tube and out the actuator, where the atomizer finely disperses the product into an aerosol spray. It is an elegant device, as the aerosol valve acts as a switch, a filling port, an atomizer, and a hermetic seal, all at once.
WE CAN SUPPLY ONE-STOPSOLUTION OF ALUMINUMCANWITHACTUATORAND VALVE
Aerosol cans are easy to use and convenient for hundreds of products used on a daily basis. By using aluminum aerosol can packaging for your products, you can ensure they are securely and hygienically packed -leading to a long product life. Aluminum aerosol cans are 100% infinitely recyclable, this can help your brands to be more social responsible and good to our earth.
Aluminum aerosol cans can be used widely for personal care, health care, household products, cosmetics, and pharmaceuticals. Our R&D team is able to design and develop different shapes according to customer requirements to differentiate their products on the shelf.